Scoring with quality content: content platform durfdenken.be
Ghent University has lots of stories to tell. In the past, they were scattered over multiple channels, and moreover, didn't always deliver. It's why we created durfdenken.be: a showcase for the best Ghent University stories. In this way, the stories could reach the general public and we could show how the university is interwoven with daily life.
Another content platform?
Starting a new content platform from scratch is always a challenge. You have to find the right niche, build a platform, create enough content and appeal to a large enough audience to make the effort worthwhile.
Via a focus group, we identified the content pillars that included both the interests of our future audience and the university's goals. These were translated into the outline of the content platform.
We deliberately stayed away from 'we, the university' and looked for interesting, quality stories, and finding a way of telling them in such a way as to appeal to a wider audience. Ghent University is the context.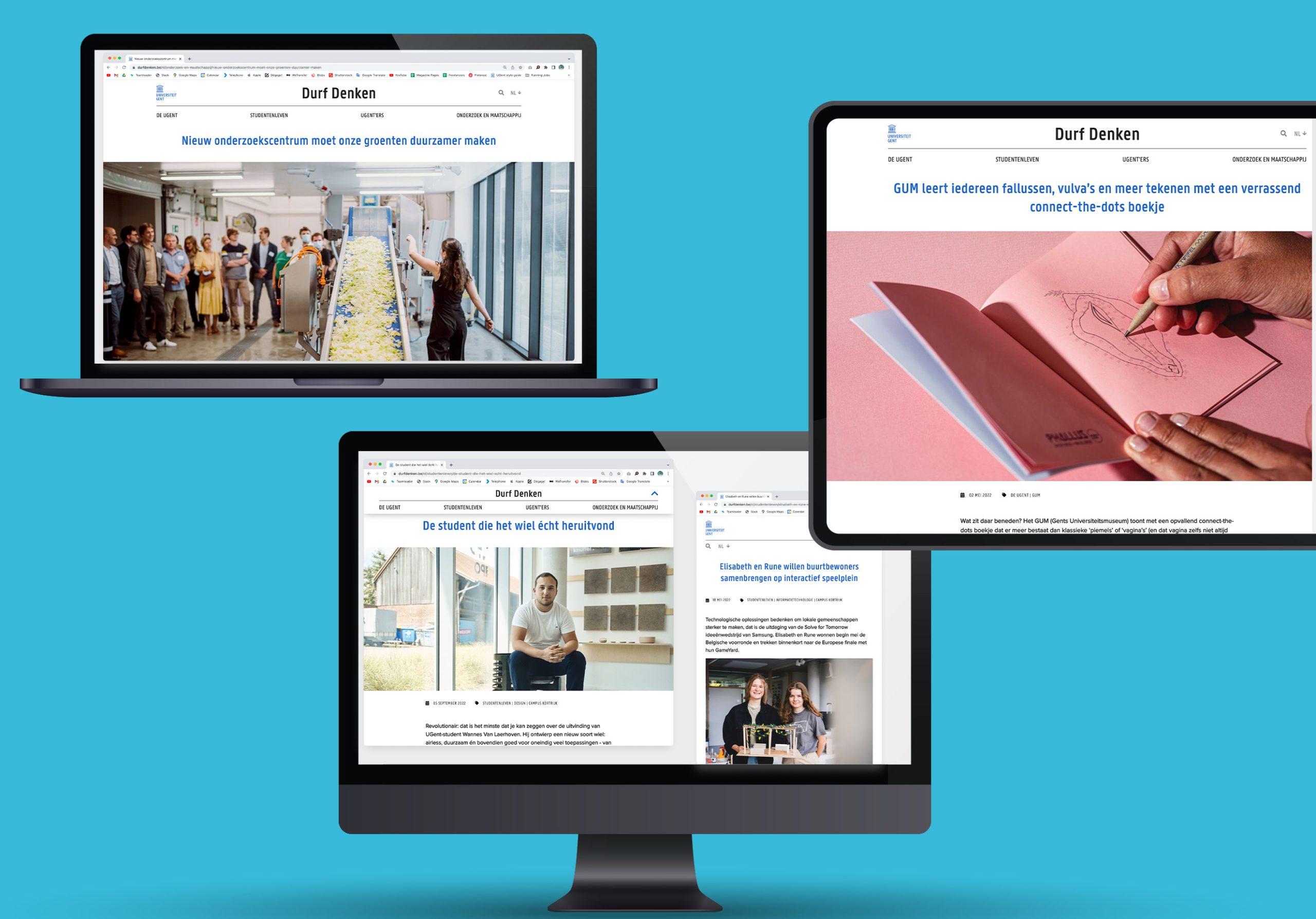 A smart distribution strategy
An omnichannel strategy was set up for distribution. The content was promoted via social media: Facebook, LinkedIn, Instagram and Twitter. Each topic is targeted to a specific audience, based on their interests and geographical location and through the most appropriate channel.
Impressive figures
Is there still room for a new content platform? The many readers confirm that the answer is a resounding yes.
Between June 2021 and June 2022, the platform had 341,000 qualitative visitors, an average of 28,000 per month. The goal of launching a solid content platform, from scratch, has succeeded.
The combination of quality content and a smart distribution strategy produced spectacular growth figures.
At 1 year:
– Traffic from Facebook x 11 (from 15,636 to 168,909)
– Traffic from LinkedIn x 3 (from 10,484 to 29,277)
– Organic traffic x 3 (from 8,029 to 24,045)
– Total number of visitors x 2 (from 167,000 to 341,000)
– Average reading time increased by 22% (from 2'27" to 3'00")
– Mainstream media are using the content.
Content marketing is about building and retaining an audience, using quality content. This platform does that and more. Durf Denken (Dare to Think in English) has become the symbol of Ghent University's social role. The audience keeps growing and the content keeps scoring year after year, with more and more articles being picked up by mainstream media. Mission accomplished.